So, this might be a meme floating out there somewhere, but I got the idea when I was checking out some family sites yesterday. Wouldn't it be neat to see how many people you could find from your own family? Guess my 8th place finish in the
Virtual Globetrotting Scavenger Hunt
went to my head.
So, here's the name of the game. Find as many photos of your family members out there as possible. Scoring and rules will be as follows:
- One (1) point for each family member photo.
- One (1) extra point for each photo with more than one family member. But you can't count the same person more than once.
- No sites can be used that are administered by yourself.
- Limit the photos to your parents, siblings, aunts, uncles, and first cousins (and try to avoid ancestors).
- All photos must have been taken after September 1, 2006 (just shy of a year ago).

The prize? Well, I don't have a prize. But let's see who can win.
Cousin Glenn (Steve's brother) with unidentified woman - 1 point
Cousin Eric (playing guitar for his band) - 1 point
Aunt Marilyn with Cousin Cinda (her daughter) - 2 points + 1 extra point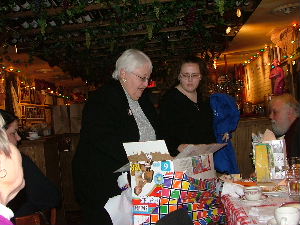 Cousin Andy (second from left, Cinda's brother), Aunt Laurie (third from left), and Cousin Cinda (again) - 2 points + 1 extra point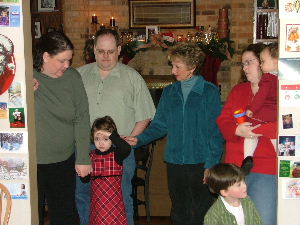 Cousin Mark, Cousin Glenn (again), and Cousin Jeff (Jeff and Mark are brothers) - God, I hope I got those names right - 2 points + 1 extra point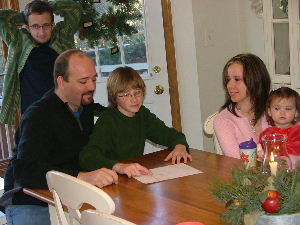 Cousin Jared (and his wife Melissa) - 1 point
My mom (and Steve, her.....well, I'll let mom answer that one) -
1 point
The winner - Aunt Susie, Uncle Eric, Cousins Damon, Sunny, Jarod (again), Abram, and my mom (again) - 5 points + 1 extra point
Uncle Dan and Aunt Gail (far left, Cinda and Andy's father) and Uncle Gary (far right, mom's twin brother) - 3 points + 1 extra point
Total = 24 Points